Your teammates are the key to success!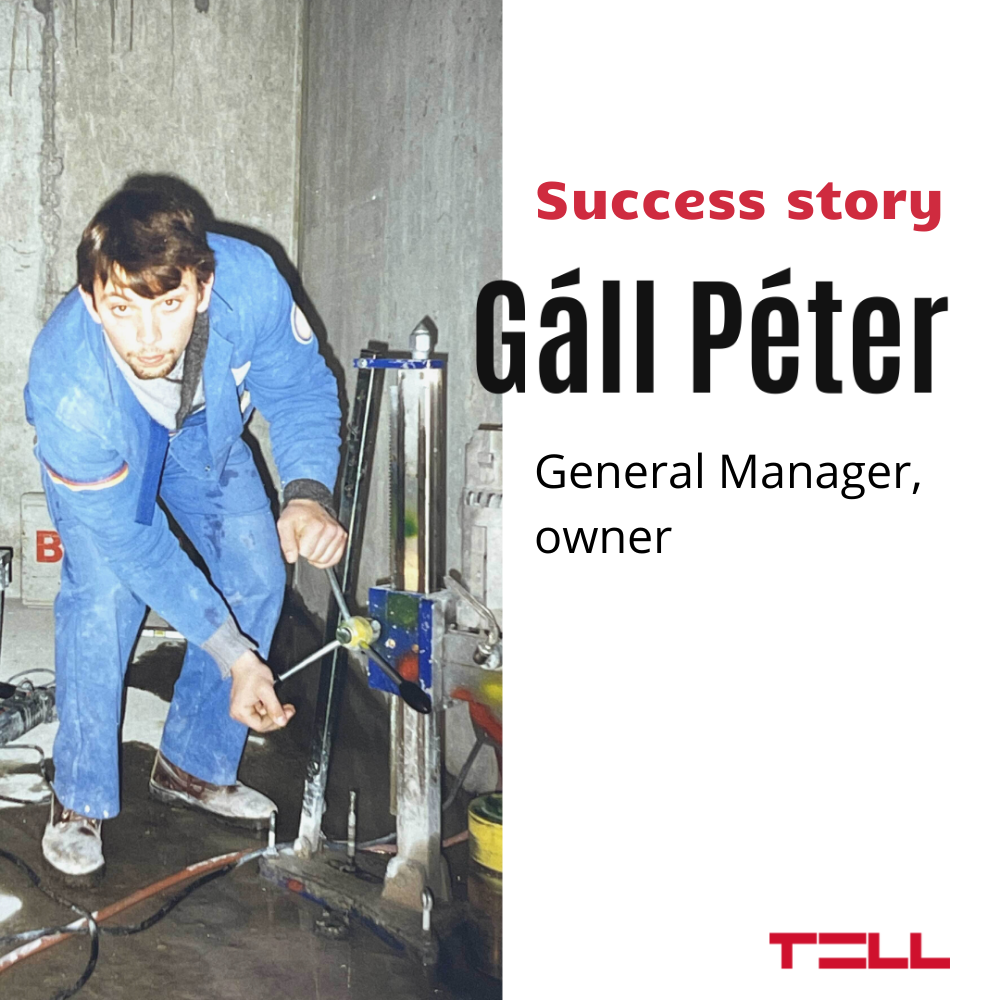 In 2005, at age 30, Péter Gáll joined a young company engaged in developing simple sms transceivers. The company was called TELL. Péter and his two business partners tried to enter the market. Did they succeed? Well, the numbers speak for themselves. In 2021, the net turnover of the TELL group of companies exceeded HUF2,5 billion with more than 100 employees. As Péter says, employing professionals with a high level of expertise is the key to success.
I wasn't much older than 8 years old when I swapped a pocket-watch for an orange with one of my classmates. I was driven by curiosity and started to disassemble the watch right after arriving home. I was really surprised as the parents of my classmate appeared at our home in the evening claiming for the watch as it was their only heritage from the grandfather. They got back only parts of the watch despite returning the orange. My mother did not really appreciate my business acumen. After this case, I stopped doing business with my classmates.
All my family members have been born and raised in the town of Hajdúszoboszló. My mother worked as a receptionist and later as a deputy hotel manager at a local hotel with long history. My father was a foreman and later a public lighting designer at the former Hungarian electricity company called TITÁSZ. Labor has always had a particular role and has always been considered as a value in my family. My father worked even on weekends to provide us a high standard of living.
I had an active childhood. I spent the summers along with my brother and my cousin at my parental grandparents' home. They were rich farmers. Besides cultivation, they raised geese, ducks, chickens, and pigs. I can remember the days we spent on the fields where the geese gazed. Sometimes my grandparents had up to 2000 geese, similarly to many other families in our neighborhood. There were 2-3 pig slaughtering a year. I can remember my grandmother baking the traditional Hungarian cheese scones called pogácsa while eating pan-fried pig's blood with onions for breakfast.
I never met my maternal grandparents, as they died young, even though I must have inherited my business acumen from my maternal grandfather. My grandfather was an innkeeper renting and running the famous 300-year-old inn called Hortobágyi Csárda at the foot of the Nine-Hole Bridge in Hortobágy for 4 years from 1939 to 1943. In the 40s, my grandfather and my grandmother opened the first restaurant in Hajdúszoboszló called Kishangya, becoming the favorite restaurant of the locals for many years. A gipsy band of eight members played music every evening.
Then nationalization changed everything.
From my 12th birthday on, I have worked every summer. I started with mason work and went on with working as a waiter in multiple restaurants. I loved working. I felt much better when buying something with my own money than asking for money from my parents.
I did not really like studying. After finishing my primary school studies, I had no clue what to study next. My father advised me to choose a technical school in the electrical industry as electricians were always wanted and he offered his help in finding a workplace afterwards. I had many friends in the school. As a class clown, I always did my best to raise awareness among my classmates. And what about the teachers? Well, they did not like my performance very much. I can remember a day during my primary school years when I was awarded the title "the calmest student at the school who is never disruptive. It was an Opposite Day.
From the second half of the 80s on, many tourists, mostly Germans, spent their summer holidays at our home. Some of them became our good friends. A family that had left the country in 1956 was our guest for several years. In 1994, they invited me to their home for 3 months to learn the German language. I was assigned minor tasks in the garage of the host, while learning German. I had a wonderful time in Germany. Everything was different: quality, precision, the cities, the supply of goods, the services, the cars. It was like arriving in a totally different world. Nonetheless, I could not wait to return home, as my girlfriend had been waiting for me. She has been my wife for 22 years. The next spring, I went to a company in Munich where I worked as a locksmith for a couple of months. Here I got familiar with precision and work ethic.
With the help of one of my acquaintances I traveled to Leipzig to work there with my brother. We drilled reinforced concrete constructions in a condominium under construction. It was hard work, but our salary arrived biweekly. We were very much motivated. One evening, the general contractor invited us for dinner to say thank you for the hard work. I could hardly believe my ears! With 21 years I felt like an equal partner thanks to his kindness and directness.
A foreign building-material manufacturer was looking for regional representatives at that time. I applied for the position, and I got hired. Thanks to my German language skills, I managed to develop an effective working relationship with the Austrian owner. I supposed he would have had something special in mind for me as he asked for my opinion in different topics from time to time, e.g. market, competitors, and business processes. Thanks to my achievements in marketing, I was promoted the leader of the region of Eastern Hungary. I was eager to further develop my skills, thus applied to Károly Róbert College where I gained a degree in management. After getting familiar with the organizational culture, it became overwhelming for me. I saw leadership attitudes that I was neither able to, nor I wanted to identify with. Neither morally, nor humanly.
I learnt quite a lot at the company, however, I knew how not to handle people at my future company.
In 2005, I needed to make a hard decision. I was offered an executive role at an international company; however, I was curious about young companies instead. One of them was looking for a new executive at that time. It was called TELL. In the end, I decided for new challenges. For a couple of years, I earned quite a little money. I agreed with the two owners to get ownership of equity when achieving measurable results. And I did it!
I moved to Budapest for a few months to build strong business relationships with potential clients. I conducted in-depth analysis of market needs that served as a basis for future developments and marketing concepts. We evaluated new ideas for products and services. Some of them had been realized, too. In a couple of years, we managed to achieve significant business growth that allowed us to further develop the business. In 2007, we established an own production site. In 2013, one of our partners left the company. Since then, there are only two owners, Róbert Rózsahegyi, and me.
Sport has played a significant role in the development of my personality. I tried out different sports, but I seemed to have no talent in any of them. However, I have always played sports, as sport is a key to physical and mental strength. In my opinion, learning is very important, too. It does not really matter what you learn. Just make sure to keep your brain fit. For example, I like theories with a background in psychology, describing the complexity of personality with the aim to develop personal competences, as well as the possibilities to apply them in practice. I conduct my studies in this field.
My hobby is riding the motorbike. I bought my first motorbike (ETZ 250) 30 years ago, at the age of 16. I am fascinated by winding serpentines and the beauty of nature. Travelling across the U.S. two years ago with my wife was one of my most memorable trips. It was about 5000 kilometers. Meeting new faces is fantastic!
I live in Hajdúszoboszló with my wife, 18-year-old daughter, 15-year-old son, as well as two dogs Dió and Mandula.
Finally, some words about TELL and its future. Many professionals with deep expertise have joined our company recently, making a devoted team. In 2015, our company was awarded the title Entrepreneur of the Year by the National Association of Entrepreneurs and Employers (Hungary).
We established three companies in Hungary and one subsidiary in Romania, while developing new products and services. Our remote monitoring systems are used by companies like Audi Hungária, the Hungarian Post, BM Directorate General for Disaster Management, and HELL. In 2021, our products were sold in 40 countries. Our fleet management system called easyTRACK is used by 4000 companies.
The year of 2021 was affected both by the pandemic and chip shortage. Despite all these difficulties, we started to expand our product portfolio with two new product families. One of them is connected to smart home support and Google Cloud. The other one will contain products based on new technologies, supporting supplementary modules that can be connected to relay and input modules with industrial design. These new product developments allow the products to communicate with each other directly, establishing the own network of TELL products.
We managed to start the product development processes of both product families in 2021. They will be available in our product portfolio soon.
Our fleet management services are characterized by continuous development, too, meeting our customers' needs. One of the most important news for the year 2022 is our automatic tachograph download system, allowing remote download of tachograph data of the vehicles remotely, regardless of telematics providers.
The other product development aims to expand toll declaration services in 20 countries throughout Europe.
From next year on, we will strive to support professionals as much as possible. For this reason, we are introducing direct shopping and technical support options. Our aim is to provide the professionals using TELL devices with fast service.
I hope to meet in person at our professional events in 2022!